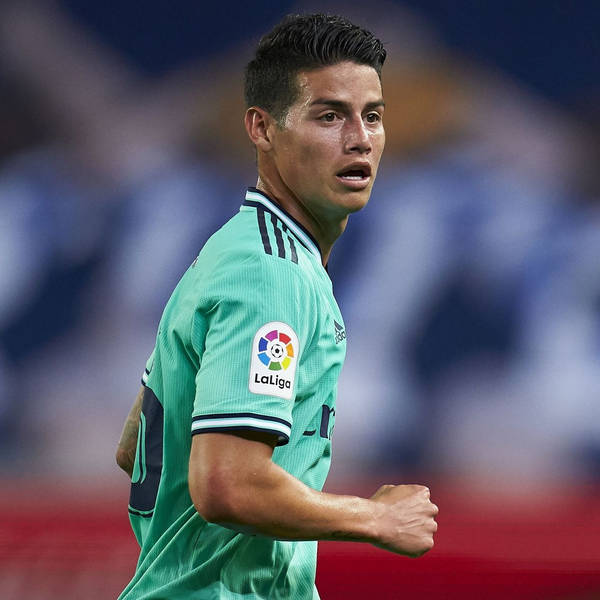 Royal Blue: The Everton FC Podcast
Royal Blue: The deal with James Rodriguez, a tribute to Gareth Barry, and what do Everton have in store for Leighton Baines?
Friday, 28 August
Phil Kirkbride is joined by Dave Prentice, Sam Carroll and Gavin Buckland for the latest edition of the Royal Blue podcast, which starts with a look back on the opening pre-season friendly at Blackpool. Do you take Everton's performance with a pinch of salt or do you attribute something more concerning to it? And what should we make of Gylfi Sigurdsson's comments after the match about the position he has operated in under Carlo Ancelotti? Our panel answer those questions and then get stuck into the subject on most Blues fans' lips at the moment - Real Madrid midfielder James Rodiriguez. Should Everton move heaven and earth to get a player Ancelotti clearly wants? And, if they do, which players do they ship out? Especially seeing as the Blues also remain in talks to sign Allan and Abdoulaye Doucouré. Midfield is clearly an area of the field Ancelotti wants to improve, and no doubt the Italian would have liked to have worked with Gareth Barry in his prime. The former Goodison favourite has announced his retirement from football, leading our panel to offer warm tributes to arguably one of the best transfers the club has made in recent years. There's also time to talk what role Everton have in store for Leighton Baines, now that he has also hung up his boots, as well as the new third kit and the latest on the move to Bramley-Moore Dock. Enjoy.